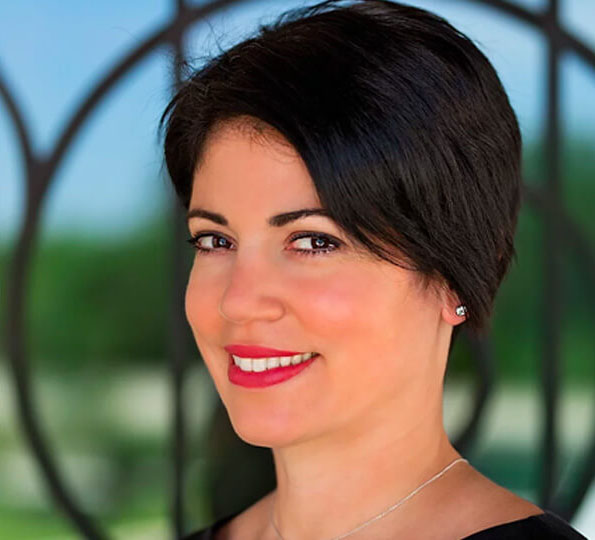 Meet Dr. Ana Torres
Dr. Ana Torres grew up in Isabela, Puerto Rico, a small beach town northwest of San Juan. She graduated Magna Cum Laude with a bachelor's degree in biology from the University of Puerto Rico at Mayagüez. While in college, she received a scholarship to play volleyball, where she met her future husband, who also played volleyball.
Dr. Torres married her college sweetheart, José, and moved to Chicago. He became a software engineer for Motorola, and she continued working toward her dream of becoming a dentist at the University of Illinois at Chicago. Dr. Torres obtained her DDS degree in 2004 from the UIC College of Dentistry.
For the next 13 years, Dr. Torres and José called Chicago home. They enjoyed many summers playing beach volleyball at NAB and many winters playing USAV indoor volleyball. In 2012, their daughter Isabel was born in Chicago. To provide a smaller town feel and a warmer weather upbringing for their daughter, Dr. Torres and José decided to move to Texas.
Dr. Torres always dreamed of opening her own practice and setting an example for her daughter. Once they moved to Texas, they knew it would be the place Isabel would call home. The next move was to establish Dr. Torres' dental practice. In December 2016, Dental Salon was officially open for business.
Dr. Torres' vision for her practice is a friendly and relaxed atmosphere with the latest technology, where everyone is treated like family. Dr. Torres wants everyone to start liking the dentist, and to look forward to their upcoming appointments. Dr. Torres lives in the area, so she wants to run into her patients at H-E-B, her daughter's schools, or the nearest park. Please stop and say "Hi!"
In her free time, Dr. Torres enjoys the outdoors, playing tennis, riding her bike with her daughter and husband, traveling, organizing block parties in her neighborhood, and volunteering at her daughter's schools.
Conoce a la Dra. Ana Torres
La Dra. Ana Torres creció en Isabela, Puerto Rico, Un pequeño pueblo de playa al noroeste de San Juan. Se graduó con honores con una licenciatura en biología de la Universidad de Puerto Rico en Mayagüez. Mientras estaba en la universidad, recibió una beca para jugar voleibol, donde conoció a su futuro esposo, quien también jugaba voleibol.
La Dra. Torres se casó con su novio de la universidad y se mudó a Chicago. Él se convirtió en ingeniero de software para Motorola, y ella continuó trabajando para convertirse en dentista en la Universidad de Illinois en Chicago. La Dra. Torres obtuvo su título de DDS en 2004 de la Facultad de Odontología de la UIC.
Durante los siguientes 13 años, la Dra. Torres y José vivieron en Chicago. ellos disfrutaron de muchos veranos jugando voleibol de playa en North Avenue Beach y muchos inviernos jugando voleibol de interior. En 2012, su hija Isabel nació en Chicago. Para proporcionar una sensación de pueblo pequeño y un clima más cálido para criar su hija, la Dra. Torres y José decidieron trasladarse a Texas.
La Dra. Torres siempre soñó de abrir su propia práctica y dar un buen ejemplo para su hija. Cuando se mudaron a Texas, sabían que sería el lugar al que Isabel llamaría hogar. El siguiente paso fue abrir su propia práctica dental. En diciembre de 2016, Salón Dental fue oficialmente abierto al público.
La visión de la Dra. Torres para su práctica es una atmósfera amigable y relajada con la última tecnología, donde todos son tratados como familia. La Dra. Torres quiere que a todos les guste el dentista y que esperen sus próximas citas. La Dra. Torres vive en el área, por lo que quiere encontrarse con sus pacientes en H-E-B, la escuela de su hija o el parque más cercano. Por favor, deténgase y diga "¡Hola!"
En su tiempo libre, la Dra. Torres disfruta de actividades al aire libre, jugar tenis, andar en bicicleta con su hija y su esposo, viajar, organizar fiestas de barrio en su vecindario y ser voluntaria en la escuela de su hija.